Saraswati Pujo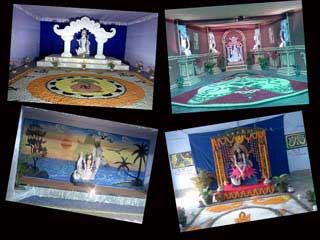 Vasant Panchami, sometimes referred to as Basant Panchami or Shree Panchami, is a Hindu festival celebrating Saraswati, the goddess of knowledge, music and art. It is celebrated every year on the fifth day (Panchami) of the Indian month Magh (January-February), the first day of spring. Traditionally during this festival children are taught to write their first words; brahmins are fed; ancestor worship (Pitr-tarpan) is performed; the god of love Kamadeva is worshipped; and most educational institutions organise special prayer for Saraswati. The color yellow also plays an important role in this festival, in that people usually wear yellow garments, Saraswati is worshipped dressed in yellow, and yellow sweets are consumed within the families.

Also known as Saraswati Puja this festival is celebrated in Nepal, India and Bangladesh to invoke wisdom and consciousness in human beings. Apart from wisdom, Saraswati is also the deity for fine and performing arts. The day is also called Basant Panchami which falls in Falgun (Phalgun in Hindi) month of Bangla calendar; that is February of the Gregorian calendar. In Tufanganj saraswati puja is celebrated in Hindu households and also in schools and colleges. Men are usually dressed in traditional paijama and punjabi. Women are dressed in yellow (basanti) coloured sari. With Her grace, the mute, it is believed, have been able to speak and people have been blessed with the ability to write or compose poems. Musicians sing here and many even choose to perform here first. Instrumentalists have puja performed for their instruments here. Apart from art and culture, Goddess Saraswati also showers Her blessings for the education of children.


Click on the Picture to see Saraswati Pujo Pictures.....
Durga Pujo
Durga Puja, also referred as Durgotsab is an annual Hindu festival that celebrates worship of Hindu goddess Durga. It refers to all the six days observed as Mahalaya, Shashthi , Maha Saptami, Maha Ashtami, Maha Nabami and Bijoya Dashami. The dates of Durga Puja celebrations are set according to traditional Hindu calendar and the fortnight corresponding the festival is called Debi Pokkho. Debi Pokkho is preceded by Mahalaya, the last day of the previous fortnight Pitri Pokkho, and is ended on Kojagori Lokkhi Puja.

Duga puja is celebrated every year with robust enthusiasm like other places of Bengal. About 50 puja pandals are arranged here. Most remarkable clubs and pandals are Kalibari,Rocky club,Cosmic club,Jaihind club,Nabo bichitra club,Yuba Sangha,Adi Baroyari,Jignitola etc.


Click On Pictures To Go To Another Pages

DURGA PUJO

SLIDE SHOW

BIJOYA DASHAMI
Kali Pujo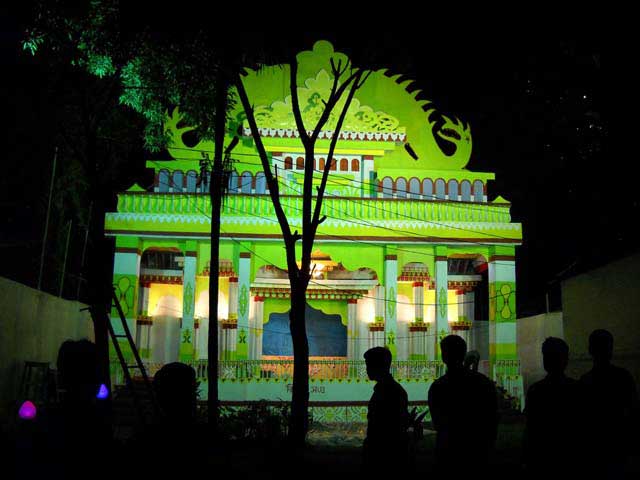 Kali Puja or Shyama Puja is a festival dedicated to the Hindu goddess Kali, celebrated on the new day of the Hindu month Ashwin in Bengal.It coincides with the pan-Indian Lakshmi Puja day of Diwali. While rest of India worships goddess Lakshmi, Bengalis, Oriyas and Assamese adore Kali.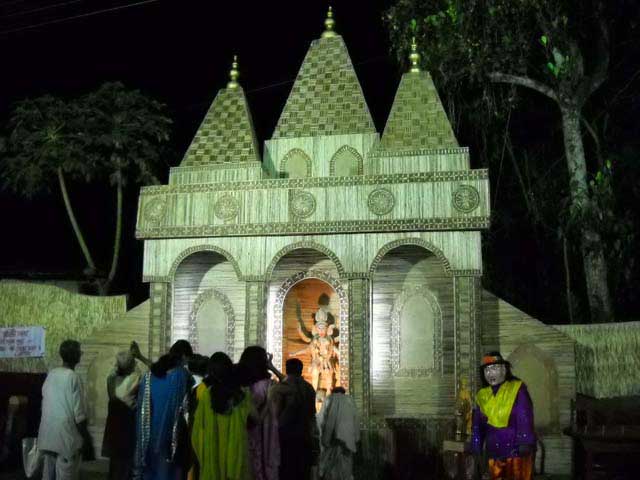 Kali puja is also celebrated every year with robust enthusiasm like other places of Bengal. About 50 puja pandals are arranged here.